All businesses, good or bad, start with an idea. For your company to succeed you need to build a product whose value proposition satisfies the needs of a market and its potential customers. But how do you know if there's a demand for it in the market or not?
Over the years we've tested a number of ways to test product-market fit. Here are some proven tips for finding your product-market fit.
That's how Marc Andreessen, the lucrative venture capitalist who coined the term 'product-market fit' (PMF), defined it in his now-notorious blog post The only thing that matters.
In layman's terms, when you identify a need in the market and build a solution that customers want to buy, that's product-market fit.
Product-market fit doesn't look the same for different businesses. Also, a PMF can be achieved in many different ways. If you already have a product, you can adapt it to new markets, repurpose or reorganize old ideas, go to where the market is, or even create an entirely new service.
In any case, we will always focus on 4 things: 1. customers, 2. competitors, 3. value proposition, 4. minimum viable product (MVP).
Dan Olsen, Lean Startup consultant and author of The Lean Product Playbook, offers a six steps process. We added a very important 7th step to his process.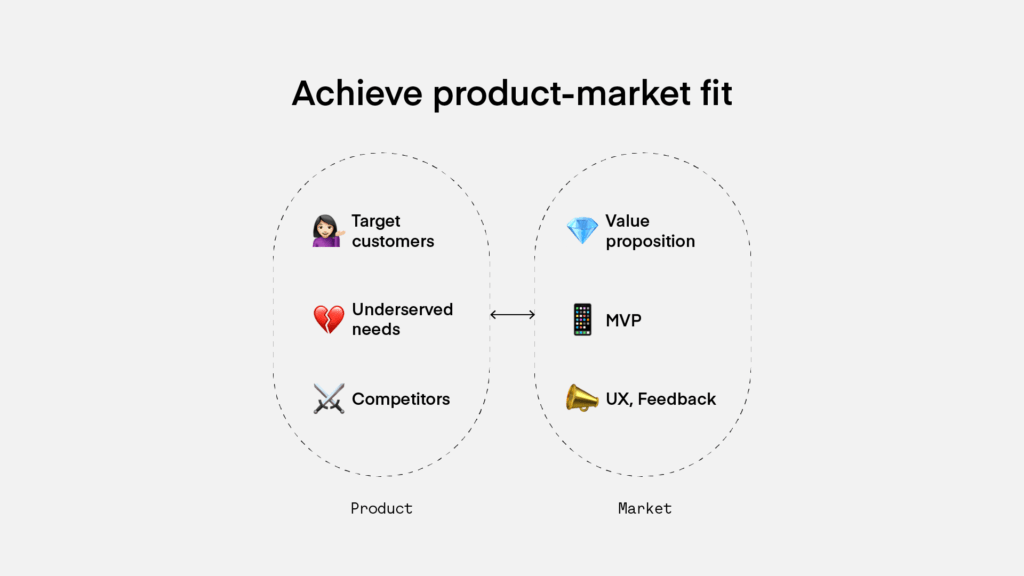 What's the one takeaway you can take out from this article? Test your ideas early and often. And don't be afraid to move away from your original idea when you see a better opportunity. It can pay off, big time. 
Do you have an idea for a product? Or a technology that can be productized? Don't be shy, and send us a quick overview at hello@madebysoulmates.com. We'll help you brainstorm new ways to bring your idea to the market.